Slit Mask Blank Fabrication Development - Hydroforming
Hydroforming is a material forming process which uses a shaped tool and an inflatable rubber bladder to deform flat material into a desired shape. The images below show a prototype slit mask and the tooling required to make the blank. The images were taken at California Hydroforming, City of Industry, CA.

The advantages of hydroforming include fast processing times, excellent surface quality on both sides of the finished parts, consistent part dimensions, and great flexibility in terms of materials and thicknesses. The part shown below was formed from 0.64 mm (0.025") 2024 aluminum.

(Images can be clicked on to view a larger version)
---
Hydroforming of Aluminum Slit Mask Shells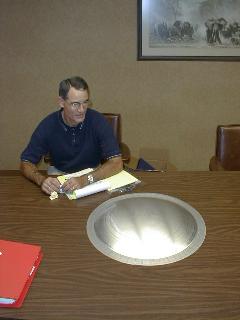 Mr. David Bonafide of California Hydroforming, shown with a prototype mask blank. The blank is slightly undersized for the IMACS requirements, at about 500 mm in diameter and 64 mm deep.
---
Hydroforming Tool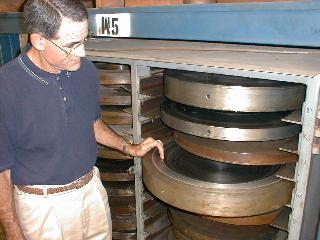 This image shows one of the tools used to produce the mask above. The tool is placed on the working surface of the hydroforming press, the material is clamped in place, and then the bladder is brought in contact with the material and inflated.
---
Hydroforming Press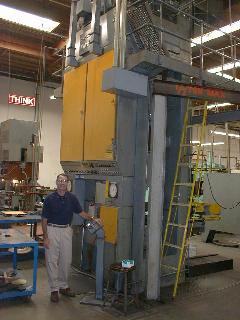 This image shows the largest press at Calif. Hydroforming, A Cincinatti Hydroform, which was used to produce our prototype. This machine can produce pressures of 10,000 PSI over the 600 mm diameter working area.