Final Installation and first light:
8/16/03 - 8/18/03
---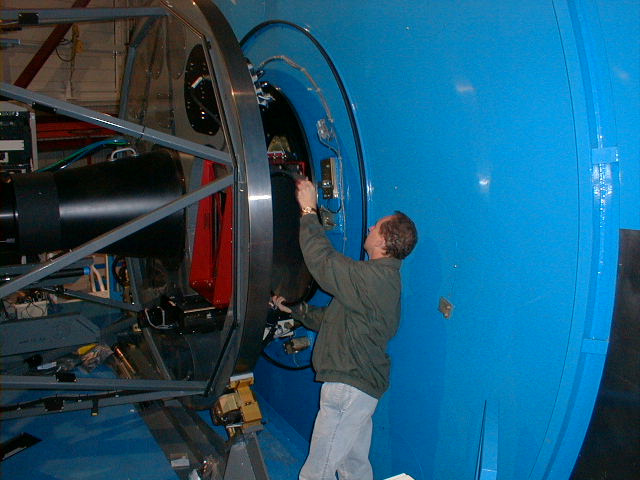 Alan Dressler installs a slit mask on Monday morning.
---
All optics installed for the f/2 system. The dewar is installed on the back of the camera (left center of image).
---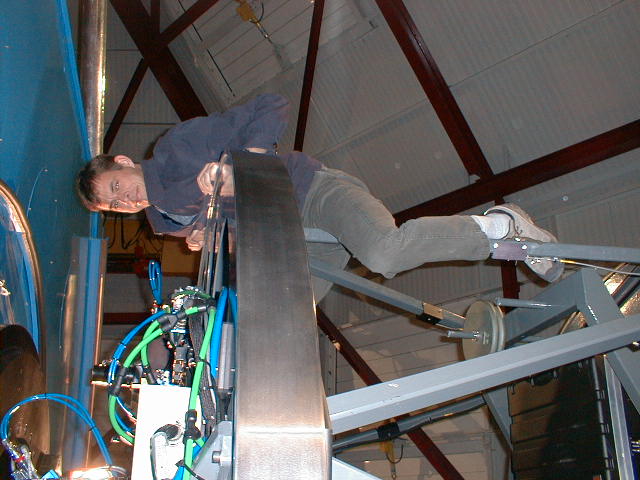 Bruce Bigelow installing a guide camera the hard way...
---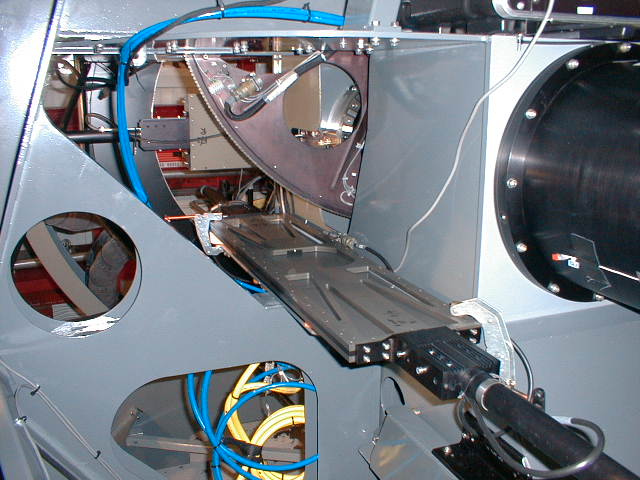 The f/4 camera shutter in first light position. Both shutters must be installed for the shutter controller to function, but the f/4 camera is not yet installed.
---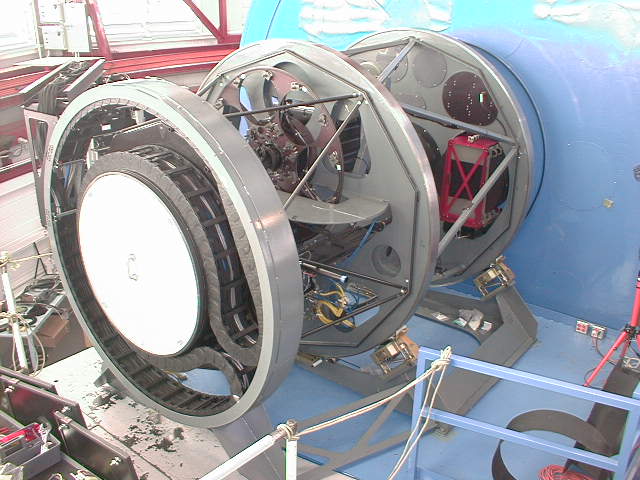 Time to install the instrument enclosure panels...
---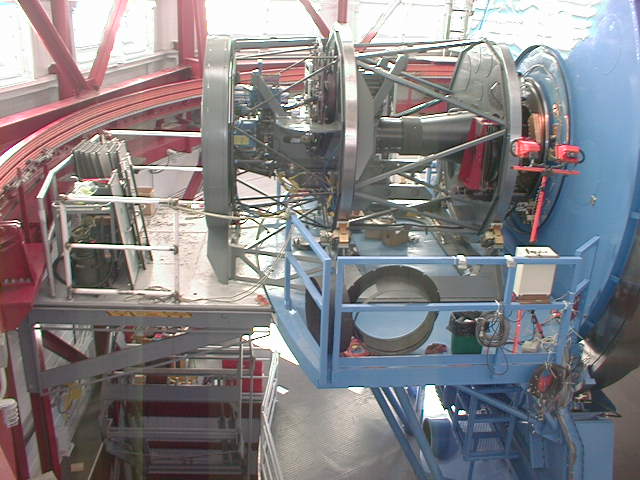 The rear panels are brought up on the equipment lift (left of image).
---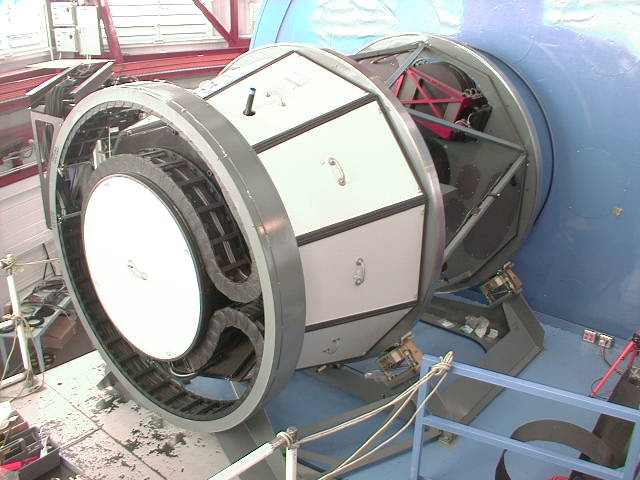 Rear cover and panels installed.
---
Alan Bagish installs the rear, side, and door panels for the electronics racks.
---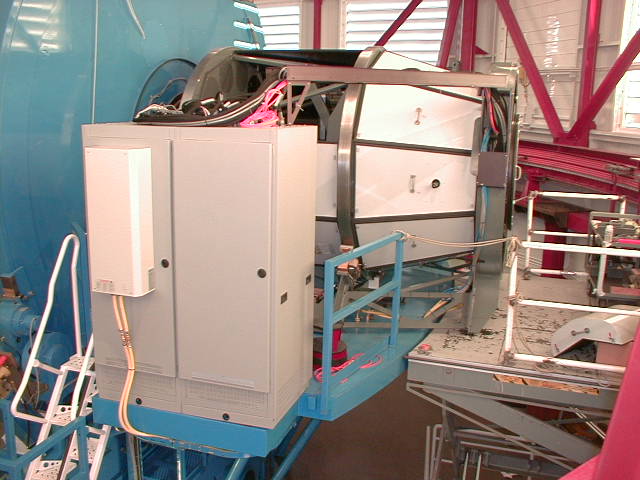 Rear view of racks - both are cooled by a single heat exchanger.
---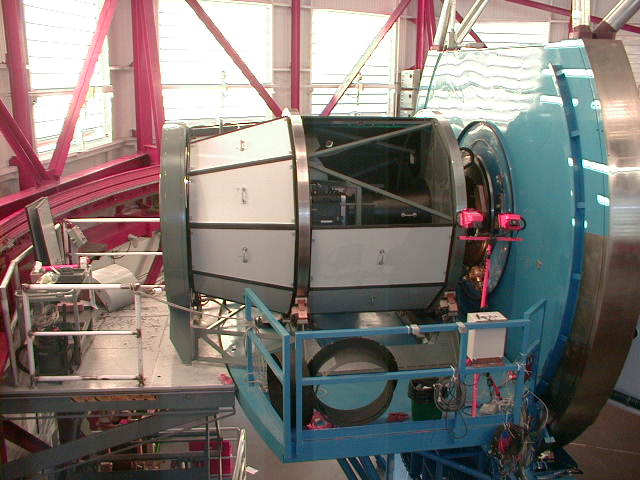 Installing the center panels.
---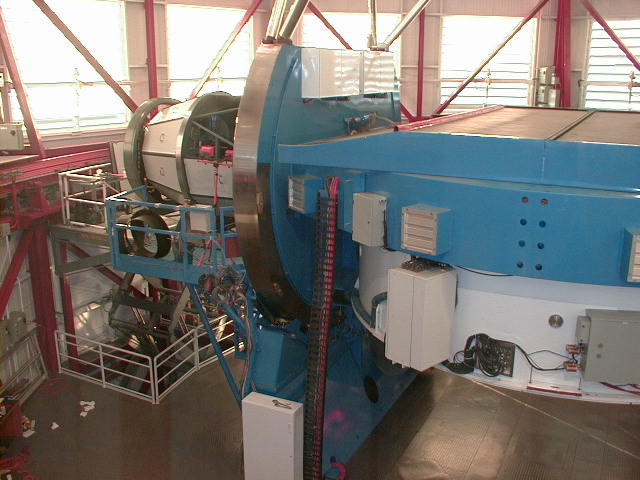 IMACS on the west platform of Baade (Magellan I).
---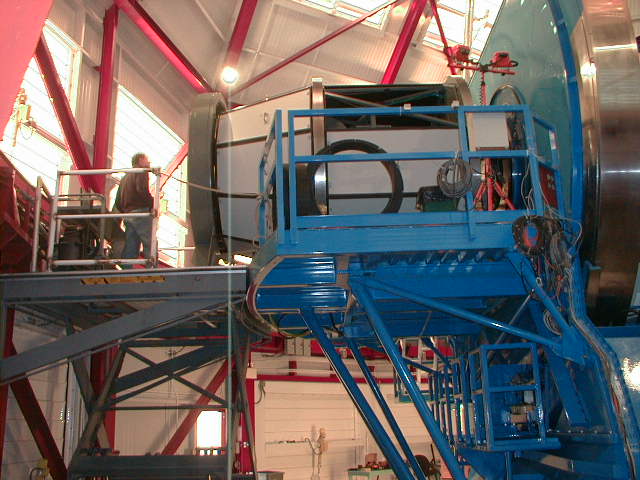 Mark Phillips inspects the enclosure panels from the equipment lift..
---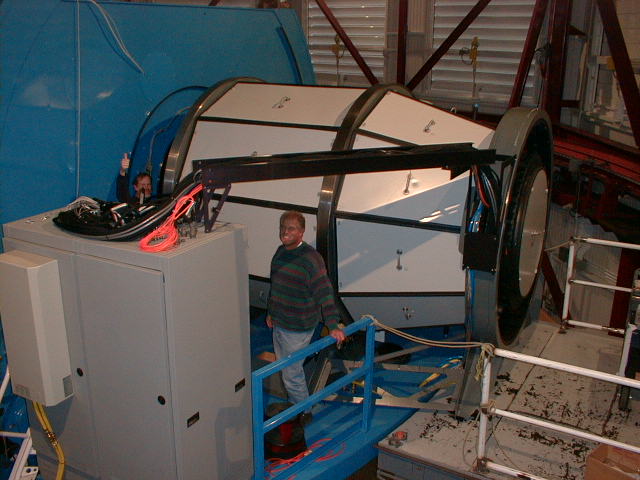 Mark Phillips and Frank Perez.
---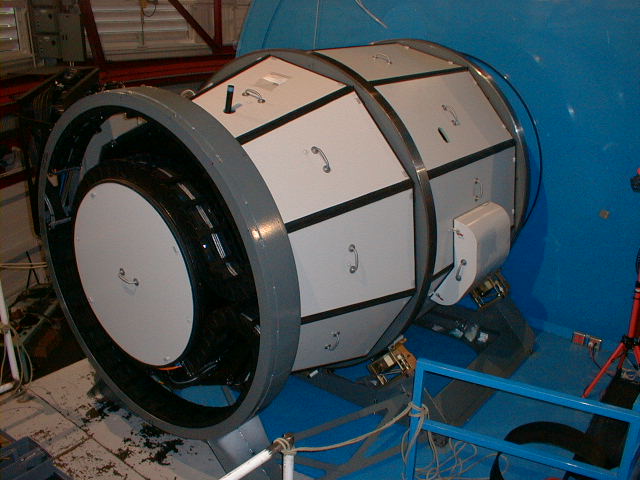 Ready for first light! The bulge on the side of the center panels covers the 8K array when installed on the f/4 camera.
---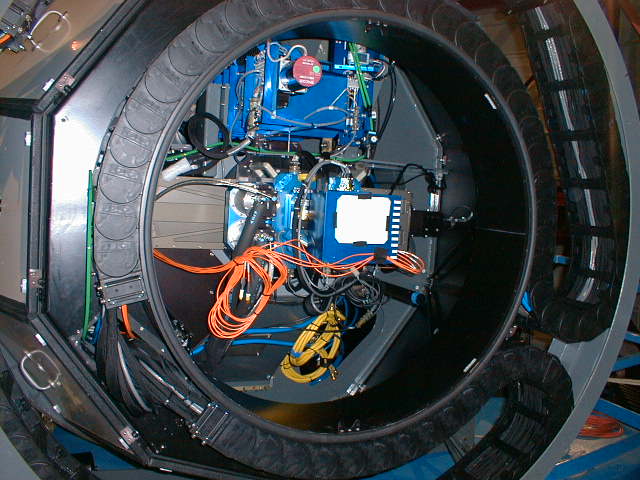 One last look at the dewar and f/2 filter changer (both blue). The orange lines are fiber-optic cables for the data lines out of the CCD controller. Yellow hoses are for liquid cooling of the CCD controller electronics (plumbing not yet installed).
---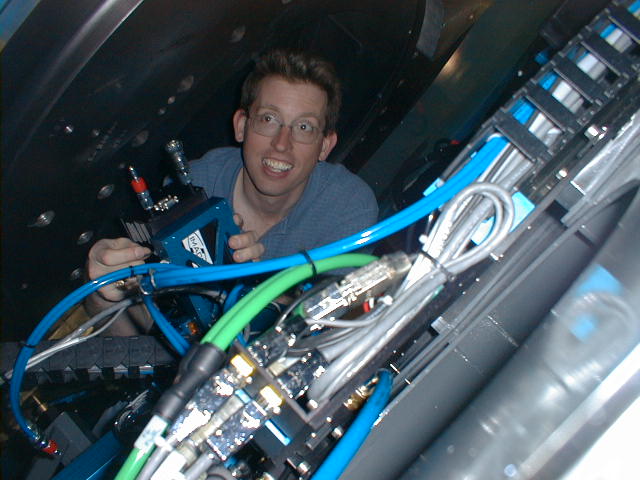 Dave Osip re-installs a guide camera "in the pit".
---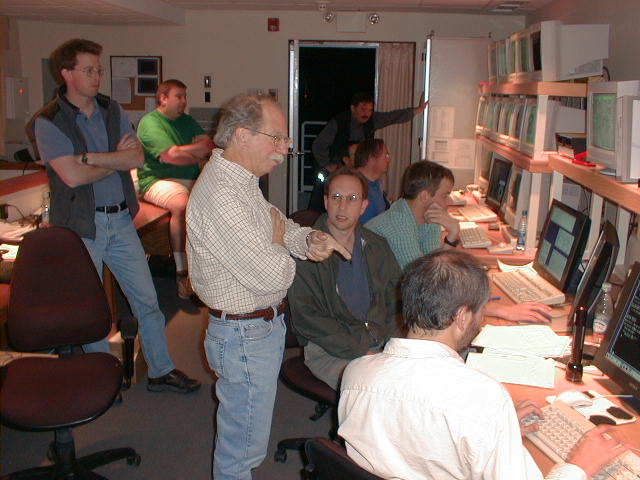 Bruce Bigelow, Alan Dressler, and Brian Sutin at the control computers. Dave Osip, Mike Gladders, and Gus Oemler look on.
---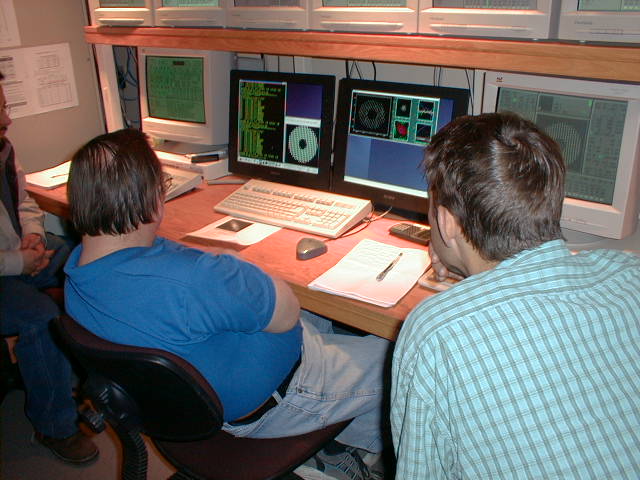 Skip Schaller and Bruce Bigelow watch the Shack-Hartmann sensor output.
---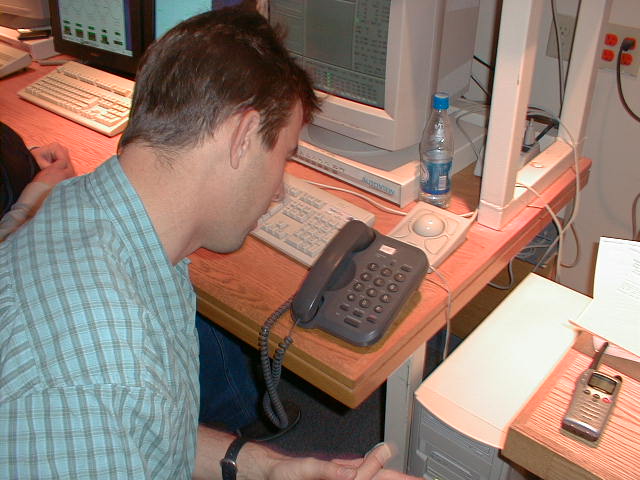 Christoph Birk was present in voice (on the speaker phone) and spirit.
---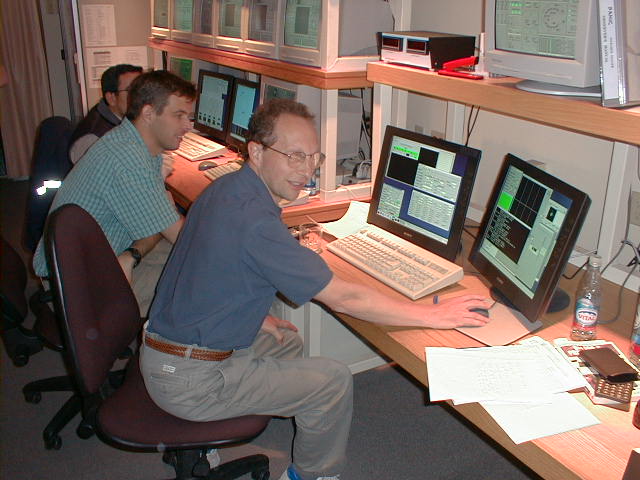 Alan starts the first-light exposure.
---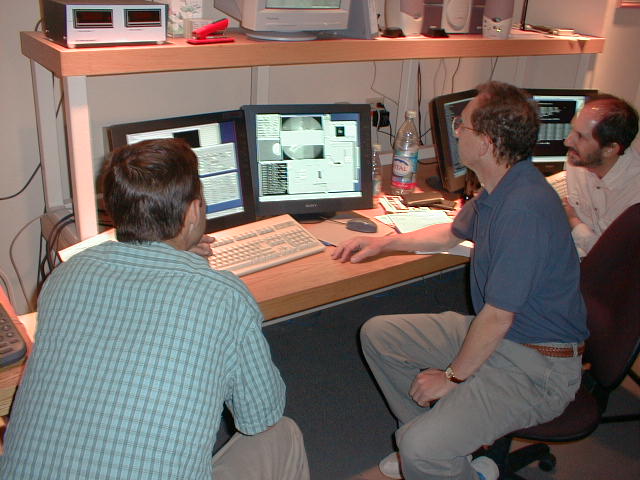 Bruce, Alan, and Brian watch the detectors read out...
---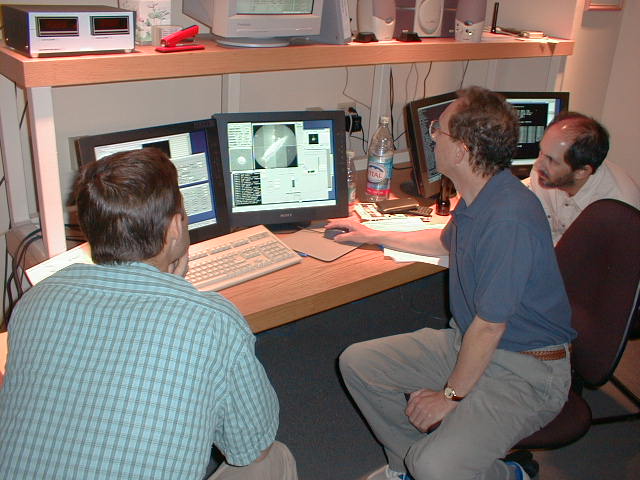 And a galaxy (NGC 253) appears!
---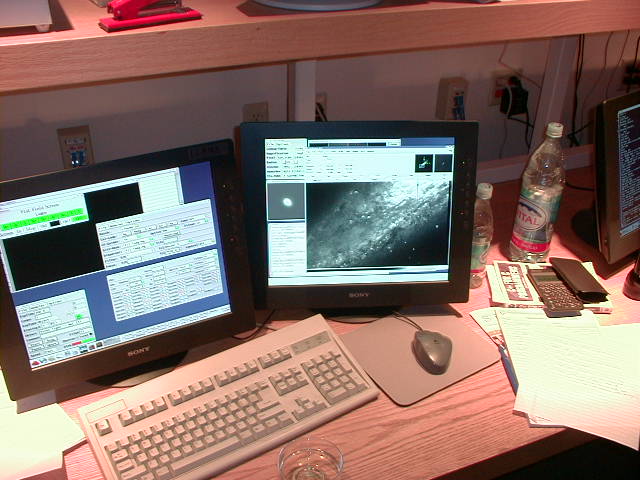 IMACS is off and running - 0.55 arcsec images (center) and a 27 arcmin FOV