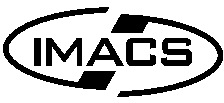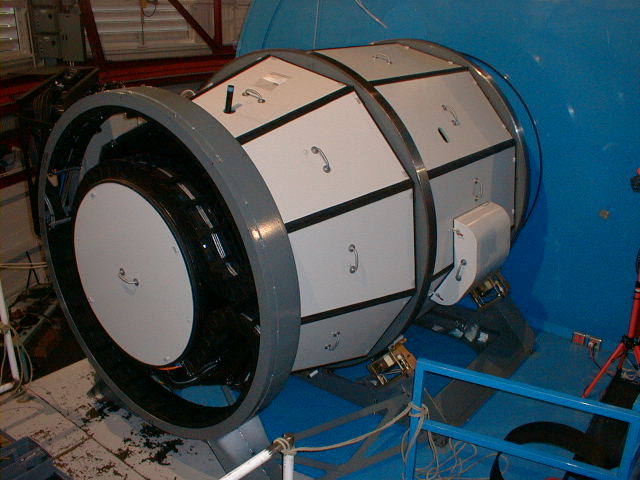 Status:
August 19th, 2003
First Light! IMACS had first light with the f/2 camera on 8/18/03. Click the link below to view the image. The initial installation campaign ended on 8/16/03, and the first commissioning ran 8/17/03 through 8/20/03. The instrument is shown here fully installed on the Baade telescope west Nasmyth platform.
---
Overview:
The Inamori Magellan Areal Camera and Spectrograph (IMACS) is a wide-field imager and multi-object spectrograph for the Baade (Magellan I) telescope. In the f/11 Gregorian configuration, with an integral ADC and field corrector mounted at the tertiary mirror (not yet installed), the transmitting, all-spherical collimator in IMACS produces a well corrected, unvignetted field of 24 arcmin in diameter (and a slightly vignetted field of 30 arc-min in diameter).

Two cameras are used to re-image the 150mm diameter collimator exit pupil, with plate scales of 0.111 and 0.200 arcsec/pixel. An all-spherical, f/4 camera can directly image a 15 x 15 arcmin FOV, or spectroscopically image a 15 arcmin long slit with a variety of standard 150 x 200 mm diffraction gratings. The optically athermalized f/2 camera, with two aspheres and four liquid (oil) lenses, can directly image a 27 x 27 arcmin FOV, or spectroscopically image a 27 arcmin long slit with one of three standard 150mm aperture grisms. Both cameras use the same 8192 x 8192 CCD array, which interchanges between the two cameras.
---
Project Links:
IMACS Optical Specifications
IMACS software development
Magellan Guide Cameras
IMACS Staff and Contributors
Monthly Reports
Instrument Manuals:
Electronics Manual
MCS Schematics
MCS Photos
Installation Links:
FIRST LIGHT AND FIRST SPECTRA!
Mainframe Installation
8/12/03 - 8/13/03
8/14/03 - 8/15/03
8/16/03 - 8/18/03
Pack and Ship Links:
Packing and shipping
Delivery and unloading
Design and Fabrication Links:
Final Assembly and Integration
Telescope Preparation for IMACS
Slit area:
Slit Mask Fab. Devel. - Metal Spinning
Slit Mask Fab. Devel. - Hydroforming
Laser Mask Cutting
Slit Mask Server
IMACS Integral Field Unit (IFU) at U. Durham
Guide Cameras
Optics:
Field Lens
Collimator Optics
Collimator Opto-Mechanics
f/4 Camera Optics
f/4 Camera Opto-Mechanics
f/2 Camera Optics
f/2 Camera Opto-Mechanics
Mechanisms:
Shutters
Disperser Server
Filter Servers
Dewar
Structures and Enclosures:
Instrument structure
Instrument carriage
Instrument enclosures
Electronics:
IMACS Project Documentation
Project Documentation - PDF files
Project Status Reports to the Magellan SAC - Powerpoint files
Pre-Ship Review Documentation.